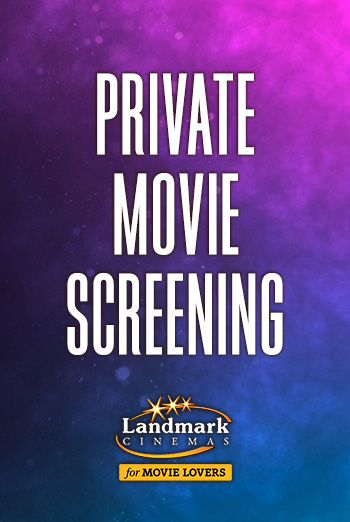 In Theatres Jan 08 2021
Duration 120 mins

​​Host your Private Screening for up to 20 guests
Pick your friends, your favourite family members, your go-to movie snacks (treats cost extra), then choose your must-see movies and enjoy in the privacy, comfort, and added personal space of your own auditorium. Private Movie Screenings are a fun and physically-distanced and safe way to celebrate birthdays, anniversaries, date nights or just to connect with your favourite cohort.
Should all Private Screening showtimes be Sold Out, the movie poster will NOT display. Please choose another date from the navigation bar.
Movie Tiles Available: January 22 - 28
For instruction on how to purchase your Private Movie Screening CLICK HERE.
New Releases
 Wonder Woman 1984
 Croods 2
 Monster Hunter
 News of the World
 Promising Young Woman
 The Witches
Movie Lover Classics
 6 Underground
 Jurassic World
 Ferris Bueller's Day Off
 Anchorman
 Raiders of the Lost Ark
 Wolf Cop (REGINA ONLY)
 Batman Begins
 The Dark Knight
 Dirty Dancing
 Jaws
 Mad Max: Fury Road
 Mean Girls
 Back to the Future
 Jurassic Park
Kids & Family Classics
 The Willoughby's
 A Shaun The Sheep Movie: Farmageddon
 The War With Grandpa
 Shrek
 Trolls
 The Emperor's New Groove (2000)
 Sing
 Minions
 Abominable
 The Lego Batman Movie
 Sonic The Hedgehog
 Trolls: World Tour
 Goonies
 E.T.
Horror Classics
 Friday the 13th
 Nightmare on Elm Street
More than 20 Guests?
Enjoy additional movie choices and flexible showtimes. Connect today with our Group Sales Team for your Premium Private Screening. Book Now.